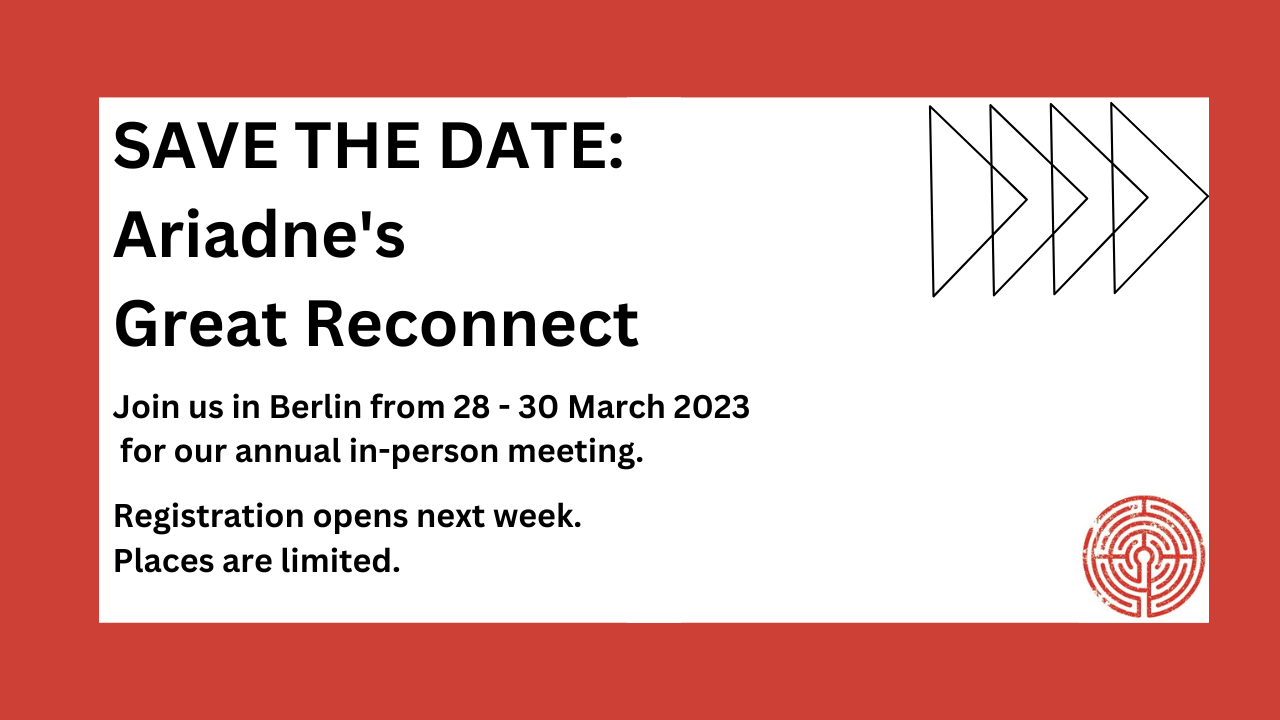 Condividi
24 January 2023
Register now! 2023 Ariadne Forecast Roundtable Meetings
From: ariadne-network.eu
You are invited to contribute to Ariadne's Forecast by attending our roundtables, which will focus on relevant trends in the field of social change and human rights at national, European, and global levels. We'll open each meeting with the results of a short survey of grant-makers in their region. Two to three senior forecasters will join us and offer expert input, which will be followed by an open discussion. The results of the survey and roundtables will be published as the 2023 Ariadne Forecast by the end of March. For more details and to register for the location of your choice, please click on the country (please note these are funder-only events):
Italy Roundtable [Rome, Italy]
Date & Time: 01 February, 14:00 – 19:00 CET
Senior Forecasters: Giovanna Castagna – Programme Officer, Open Society Foundations; Giulia Laganà – Fund Manager, Healthy Food Healthy Planet initiative, ClimateWorks Foundation; Cecilia Anesi – President of IRPI (Investigative Reporting Project Italy).
Moderator: Carola Carazzone, Secretary General, Assifero
Netherlands Roundtable [virtual – ZOOM]
Date & Time: 06 February, 15:30 to 17:00 CET
Senior Forecasters: Coco Jervis, Director of Programmes, Mama Cash; Amol Mehra, Director of Industry Transformation, Laudes
Moderator: Abhijit Das Program Director, Foundation Democracy and Media (SDM)
UK Roundtable [virtual – ZOOM]
Date & Time: 07 February, 15:30 – 17:00 GMT (16:30 – 18:00 CET)
Senior Forecasters: Senior Forecasters: Alex Sutton, Director of Grants, Trust for London & Sufina Ahmad MBE, Director, John Ellerman Foundation
France Roundtable  [Paris, France]
Date & Time: 14 February, 14:00 – 18:00 CET + drinks
14:00 – 16:00 Thematic roundtable: «Soutenir la démocratie en France, que nous enseigne le cas hongrois ?»
16:30 – 18:00 France Forecast Roundtable
Senior Forecasters: Jean Saslawsky, Strategic deployment project manager, Fondation de France (FdF);  Laurence Meyer, Racial and Social Justice Lead, Digital Freedom Fund (DFF).
Moderator: Inga Wachsmann, Programme Manager, Porticus
Germany [Forecasters TBC]
Date & Time: 16 February, 15:00 – 16:30 CET.
FUNDING FOR REAL CHANGE: Funding real change is funding fully & flexibly to fight the starvation cycle: Despite civil society organisations being at the forefront of fighting the complex problems of our world, most suffer from financial instability. Learn more about the non-profit starvation cycle in this article published on Philea's website.
BLOG: Shifting the power; making meaningful participation a reality: In 2020, Ariadne's member, Porticus, defined a 10-year strategy which included a commitment to ensure meaningful participation of the people affected by poverty and exclusion in all their grants and programmes. In this blog, Dennis Arends, Senior Analyst – Effective Philanthropy Group at Porticus, shares more information about their process.
BLOG: Reimagining grantmaking: Shifting power to young people: Nasra Ayub, Programs and Partnerships Associate at Ariadne's member, Global Fund for Children raises the case for participatory grantmaking and why we must include young people in the project design and implementation. Interested? Read more.
ARIADNE'S MEMBERSHIP PORTAL: Meet our community moderators!
Markus Janzen, the Eastern Europe & CIS community co-moderator, has 14+ years of experience working with Porticus in the private philanthropy sector in 'Central and Eastern' Europe, particularly Hungary, Bosnia and Herzegovina and Ukraine. In his work, he has been focusing on civic engagement, youth, education, human trafficking, child protection and working with faith-based organisations.
Bailey Grey, the Disability Rights community co-moderator, is a senior consultant and executive with over 30 years of human rights policy and programmes across the globe, inspiring change at local, national, and international levels, focusing on underrepresented groups – persons with disabilities, children, women, and people living in poverty.
Log in here to connect and collaborate with other funders on Ariadne's Membership portal! Do you have a colleague that doesn't yet have access to the portal? They can sign up here.
Need assistance? Take a look at our guide or email ariadneoffice@ariadne-network.eu.
All these resources and more can be found on Ariadne's website and Member-only portal.
Condividi